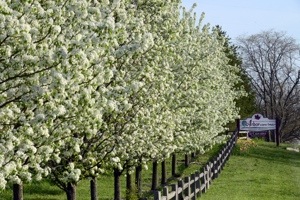 Tree Sales Illinois and Large tree sales Illinois
We Sell Trees in Illinois and throughout the Midwest
From little trees to larger ones
Planting larger trees can bring the look of a beautiful, long established, wooded environment to your property, instantly, adding character and value. Whether your looking for the gorgeous fall color of a walk in nature or the beauty of spring, bursting into blossom on your front lawn or yard, we can provide it for you. You may even hand pick your choice by visiting our ten acre nursery where you may select from a wide variety of shade and ornamentals to create that look your looking for.
Whether you would prefer a show stopper for your front lawn or a tall screen to turn an unsightly view into the lush green of nature, as a backdrop for your choice of flowering plants we can help you achieve your goal, overnight, enjoy it tomorrow, not in twenty years. We can supply and plant trees from 2″ to 10″ in diameter and evergreens from 6' to 30' tall.
Why wait twenty years? Arbor Care inc. can help you choose trees that will do well on your property, provide a natural mix of sizes and be beautiful, NOW.
Need after care we can do that too! We can take care of all your tree care needs.